Map Unavailable
Date/Time
Date(s) - 04/28/2021 - 04/29/2021
8:30 am - 5:00 pm
Categories
This two-day virtual program is led by the Bureau of Industry and Security 's professional counseling staff and provides an in-depth examination of the Export Administration Regulations (EAR). The program will cover the information exporters need to know to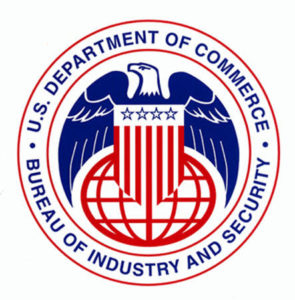 comply with U.S. export control requirements on commercial goods, and other items subject to the EAR.
We will focus on what items and activities are subject to the EAR; how to determine your export control classification number (ECCN); steps to take to determine the export licensing requirements for your item; when you can export or reexport without applying for a license; export clearance procedures and record keeping requirements; and guidance in applying this information. Presenters will conduct a number of "hands-on" exercises that will prepare you to apply the regulations to your own company's export activities. This program is well suited for those who need a comprehensive understanding of their obligations under the EAR.
This program will be held virtually through Webex and will begin at 8:30 am and end at 5:00 pm each day.  All program materials will be shipped to you prior to the event.
Speakers
The instructors are experienced export policy specialists, and enforcement personnel from BIS's field offices.  This seminar will also include guest speakers from the U.S. Census Bureau and the Department of Treasury, Office of Foreign Assets Control.  The instructors will be available during the seminar to answer your questions.
Registration Details
The registration fee for the Complying with U.S. Export Controls virtual seminar is $325.  The fee is non-refundable after April 21, 2021.
The fee includes hard copy materials that will be shipped to each registered attendee in advance, and a certificate of completion for the seminar.  Please indicate which address you would like to have the materials shipped to in the comment section of the registration form. (for remote working situations)
Registration and payment must be received no later than April 21, 2021 to guarantee receipt of materials.  If received after April 21, 2021, electronic copies will be emailed, and hard copies will be shipped, but may arrive after the seminar date.  Expedited shipment after April 21, 2021 is available at an extra cost.  There will be an additional fee for international shipments.
We accept most major credit cards, but can also issue invoices if you prefer.
Discounted Rates
Discounted Rates May Be Available to Qualifying Companies
If your state's export program received STEP funding from the US Small Business Administration, and you are a qualifying small or medium sized business, you might be able to qualify for a grant to offset part of the cost of this seminar.  Please check the list below of states that received STEP funding.
If you are a small or medium sized Pennsylvania company, and have an exportable product or service, we can offer you a discounted rate of $81.25 for up to 2 participants through funding provided by the PA Department of Community and Economic Development and the US Small Business Administration, under the STEP program.
In order to qualify, a company must meet the U.S. Small Business Administration's definition of an Eligible Small Business Concern, which is defined as an entity that:
–  Is organized or incorporated in the United States;
–  Is operating in the United States;
–  Meets the applicable industry-based small business size standards
The following three forms need to be completed and emailed to:  info@wtccentralpa.org
STEP Client Application Form 
Funded in part through a Grant with the U.S. Small Business Administration

Bookings
Bookings are closed for this event.