Date/Time
Date(s) - 09/18/2018
8:00 am - 10:30 am
Location
MASCPA Offices
Categories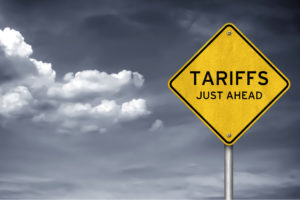 Join the Manufacturers Association of South Central Pennsylvania and the World Trade Center Harrisburg for a morning seminar to learn about the current tariff situation and strategies to adapt and remain competitive.
Topics Include
Download the Event Announcement
Presentations
The following topics will be covered by presenters
Re-evaluating Your Global Supply Chain in a Tariff Environment
by Sean Sabre and Peggy Stewart, Nexterus
– Understanding the trade-offs in regards to short term strategies such as sourcing changes and long term strategies such as near shoring
– Substantial transformation in the supply chain as a mechanism to mitigate tariffs
– Supply Chain Modeling and Simulation Strategies
The Tariff Exclusion Process
by Jane Davis, Shumaker Williams LLC
– Learn about the tariff exclusion process
– Process of submitting comments and testimony
– Following up with legislators
Are we in a Trade War?  What's Next?
by Brian Simpson, Baker Tilly Virchow Krause, LLP
– Surviving tariffs and trade uncertainty: 5 proven approaches to address tariff impacts."
Consider strategic options to conducting global trade in a changing socio-political landscape
Learn tactics to overcome tariffs and other limitations in conducting cross-border business
Position your company to better address future trade policy shifts
– Proven approaches to help their business adapt and maintain their competitive edge in the marketplace
Agenda
8:00 am – Registration, Breakfast and Networking
8:30 am – Presentations
10:00 am – Q&A and Discussion
Speakers
Meet our presenters!
As COO at Nexterus, Sean is responsible for managing the day-to-day operation and overseeing Domestic Operations, International Operations, Sourcing/Procurement, Professional Services and Information Technology. Prior to working with Nexterus, Sean worked in various management roles for ModusLink Global Solutions including the development and management of purchasing and planning corporate shared services. Earlier in his career, Sean worked for the 4PL supply chain services division of Kühne + Nagel (KN Lead Logistics) and held various supply chain management roles within Bosch und Siemens Hausgeräte GmbH and The Hatteras Group. Sean earned a BSBA from East Carolina University, studied at École Supériure de Commerce, Rennes France and IES på Högskölen I Luleå Sweden and served with the 101st light infantry in Iraq.
Over the years, he has served as a guest speaker for numerous supply chain conferences, symposiums and summits, has been an advisor to Wal-Mart as a member of its packaging SVN, an advisor to Packaging World Magazine as well as chair of its annual awards committee, a US delegate with the American National Standards Institute for ISO standards development, a member of the Maryland Incubator of the Year selection committee and more recently chair of the Supply Chain working group for BiTA (Blockchain in Transport Alliance). Sean joined Nexterus in 2013.
Jane G. Davis joined the firm as a shareholder in July 2006 and is a member of the Corporate and Financial Services Department. Her practice focuses on corporate and commercial law, mergers and acquisitions, securities regulation and corporate governance.
From 1995 to December 2005, Ms. Davis was Vice President, Secretary and General Counsel of York International Corporation, a Fortune 500 and New York Stock Exchange-listed manufacturer. Ms. Davis was responsible for all of the company's legal matters, including numerous acquisitions, divestitures and other business transactions and compliance with corporate governance requirements and securities laws and regulations.
Ms. Davis also served as Secretary to the company's Board of Directors and several Board Committees. From 1987 to 1995, Ms. Davis served as Vice President, General Counsel and Secretary of Joy Technologies Inc. (now Joy Global Corp.), a publicly-held manufacturer of underground coal mining equipment and other industrial products.
Ms. Davis is a 1978 graduate of the Duquesne University School of Law where she was a member of the Duquesne Law Review and an article editor. She received a B.A. in French from Elmira College and an M.A. in French Language and Literature from the University of Pittsburgh. She is licensed to practice law in Pennsylvania and is a member of a number of professional and civic organizations.
Brian Simpson is the director of International Growth Services practice Midwest region with Baker Tilly Virchow Krause, LLP. He brings more than 10 years of experience in international positions in multiple industries, including management consulting, automotive, location based services and retail analytics. Brian has led due diligence projects for multiple cross border acquisition targets and has lived or worked for extended periods in Germany, England, Mexico and Brazil.
His experience includes responsibility for supporting international operations through a network of global,
regional and local resources and leads market expansion projects. He conducts market entry research and offers value added recommendations to reduce risk and exposure, as well as provides strategic management and planning support including the development of cost models and budgeting. Brian manages teams of short term consultants internationally to achieve project objectives  and serves as a liaison between government agencies and leadership to streamline business start up procedures. He also ensures adherence to subcontracting and contract management plans, contract compliance, reporting and program results.Other expertise include experience in business enabling, foreign direct investment, trade and competiveness, tax reform and international development.
Brian graduated from the University of Michigan, Ross School of Business (Ann Arbor, Michigan) and received his Masters of Business Administration, with a corporate strategy emphasis.  He received his B.S. in Mechanical Engineering at Kettering University (Flint, Michigan). Brian is fluent in Spanish, German and Portuguese.
Bookings
Bookings are closed for this event.