Map Unavailable
Date/Time
Date(s) - 09/18/2019
8:00 am - 6:00 pm
Categories
Together with the PA Department of Community and Economic Development, we are hosting the representatives from Pennsylvania's 15 overseas trade offices for our annual Bringing the World to PA! event.
Companies from the southcentral region will have the opportunity to schedule individual appointments with the trade office representatives and discuss their international business expansion.
Additional networking opportunities are available during the luncheon program.
The event will be followed by an evening reception for attendees and trade office representatives.
Meeting with the Reps
Meetings with the Authorized Trade Representatives will take place in the morning (beginning at 8:00 AM, ending at 11:30 PM) and in the afternoon (beginning at 1:30 PM, ending at 5:00 PM). Each appointment is 30 minutes long.
Please know that meetings are arranged on a first come, first serve basis and that you can always arrange to schedule a Skype or phone call for another time.
Overseas Trade Offices:
•Australia & New Zealand                                                                                            • ASEAN (includes Malaysia, Philippines, Singapore, Indonesia & Thailand)        • Canada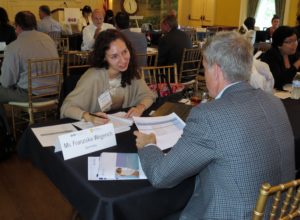 • Central & Eastern Europe (includes Belarus, Bulgaria, Croatia,
Czech Republic, Estonia, Hungary, Latvia, Lithuania, Poland,
Romania, Russia, Serbia, Slovakia, Slovenia, Ukraine)
• China
• Germany (includes Germany, Italy, Austria, Switzerland)
• India
• Korea
• Middle East Regional Office (includes Egypt, Greece, Israel, Jordan, Turkey)
• Mexico
• Netherlands and Belgium
• Saudi Arabia
• Taiwan
• Arab Gulf (includes Bahrain, Oman, Kuwait, Qatar, UAE)
• United Kingdom (includes Ireland, Denmark, Finland, Norway, Sweden, United Kingdom)
Free Services Provided by the PA Overseas Trade Offices Include:
• Market and competitive intelligence
• Identification of overseas partners, agents or distributors; pre-screened per company's criteria.
• Regulatory information on products, tariffs, and duty rates
• Foreign company background checks to ensure legitimacy
• Logistical issues such as in-country transportation and arrangement of appointments with potential customers or distributors
• Trade show support
• And more!
Agenda
8:00 AM: Morning Registration & Meetings with Trade Representatives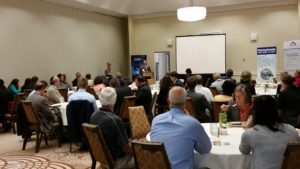 12:00 PM: Luncheon Discussion & Buffet Lunch with Trade Representatives
1:30 PM: Afternoon Registration & Meetings with Trade Representatives
More TBD
Luncheon
Join us for a buffet style lunch at noon to 1:30 pm and network with the overseas trade office representatives, local companies and our event sponsors.
Sponsors
"Bringing the World to PA!" is funded in part by DCED's Office of International Business Development

---
Sponsor opportunities are available: 
Bringing the World to PA sponsorship form 2019
---
Thank you to the following sponsors (to date) for their contributions!
Silver Level Sponsors

Bronze Level Sponsors

Strategic Partners


Registration Information:
Look for more details coming soon.
Mark your calendars!